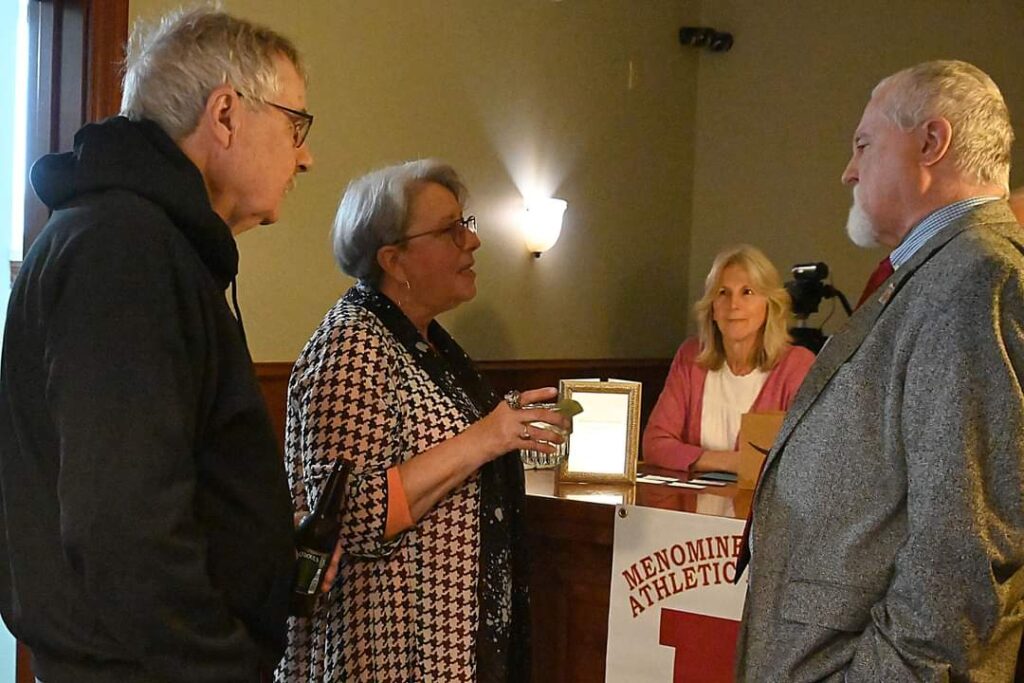 I was surprised and pleased when Randy Demeuse showed up at my door sometime in March with a request.
He asked if I would consider being the keynote speaker at the upcoming Menominee High School Athletic Hall of Fame dinner and induction.
Me – who spent most of my high school years in the role of rebel, advocate and budding writer  – was being asked to speak about sports. I would have been much less surprised to speak at a banquet about journalism or writing in general. At events these days, I often speak about plants.
Don't get me wrong – I love sports. I have golfed, played softball, bowled and played pool since I was little. I have been a team player and a coach. But my only brush with high school sports was to join the MHS boys golf team since there wasn't a girls golf team. In fact, there weren't any girls sports at all in the early 1970s.
I wasn't the only female to rebel; a friend of mine, Barb Winther, joined the boys tennis team that same year. She was a much better athlete than me.
After Title IX, the law that required schools to offer girls the same sports opportunities as boys, there were teams for both sexes at our high school.
I thought about my speech for weeks. Mostly, when I was trying to fall asleep. That didn't help me write it or go to sleep, but a rough draft was forming in my brain. I made the decision to be honest, but not preachy. I wanted to sincerely applaud the successes of these special athletes from our area, but still remind people that it took a long time to work toward equality, and – in my opinion – we still aren't there.
You be the judge.
Here is my speech. And, before you read it, I want you to know that I was genuinely moved by the talent and drive of those individuals chosen as inductees in the HOF class of 2023. They are special people, who have gone beyond those four years of high school to excel in sports and beyond. Their speeches, and those from their presenters, were excellent.
Thanks, John Wills, Randy Demeuse and other members of the committee, for your role in selecting me as keynote speaker.
I hope I did not disappoint.
My Speech
Thank you, John (Wills), for the introduction. And, to the Hall of Fame Committee for asking me to speak tonight.
I really never considered I would be invited to the Menominee High School Athletic Hall of Fame induction dinner, since my involvement in High School sports was brief and uneventful.
But, it was important to me. As important as it is to any child, teen or adult – young or old. Sports are a part of many of our lives – going back as far as we can remember, and hopefully continuing for as many years as we are able.
As a child, I played team sports. And, I golfed. In fact, I and all of my siblings learned how to golf when we were old enough to swing a club without hurting each other. My dad, Fritz Entringer, loved golf and he made sure we had golf clubs suitable to our size. He had them cut down and wrapped with grips, so we could putt, chip and drive.
He also taught us how to play softball, climb trees, swim and more. At times, we even helped with construction projects, and cars being tweaked in the garage;
My parents had four girls before my only brother and youngest sister were born, and it never really occurred to them to treat us a certain way because we were female.
My dad, and my mom, Marlyn, taught us that we could do anything we wanted to, as long as we were willing to work hard to achieve it.
As I grew up, there were times when someone would annoyingly tell me I couldn't do something because I was a girl. I was shocked at their stupidity, and driven to prove them wrong.
That was at least a small part of why I joined the boy's golf team when I was in high school. Mostly, it was because I wanted to golf. As I said earlier, we Entringers grew up golfing, caddying and hanging out at North Shore Golf Course. When I wanted to golf, I was told there wasn't a girl's team. So, I joined the boy's.
I practiced with them, golfed with them and had maybe two matches – since I was only allowed to golf against other girls, and there weren't too many teams that had girls.
At the same time, one of my friends also joined the boy's tennis team, since there was no girl's team.
Then, came Title IX.
Our country had to make it a law for people to accept that girls had the same right as boys to participate in sports and other educational activities.
The door opened for all girls to become involved in school sports in any establishments that received federal funding. Elementary, high school and colleges had to offer sports to females that had previously only been offered to males.
It was about time.
The next year at Menominee High school, there were both girls' golf and tennis teams.
When you look around this room tonight, you see the faces of this year's inductees into the Hall of Fame, two of which are female, Korry Schwanz and Mandi Long Zemba. They are among the finest examples of young women who excelled at sports and as people. Also among the honorees is a woman who is no longer with us, but remembered for her ongoing efforts to support Menominee schools and Menominee sports – Marye Mathieu, who along with her husband, Dave, led the charge to bring sports to all kids.
These women join the ranks of the other inductees and share the reasons why they all rose above the ranks of their friends, colleagues and team members to shine as outstanding athletes in high school and beyond.
Every child sees themselves as being a sports star, but few achieve it. Those who reach pinnacles as high school and college athletes also share the individual drive, endurance and motivation to take their innate physical abilities to the next level.
Those are the people we honor here tonight.
Some of them may have shown their exceptional talents as early as grade school and were encouraged and supported by their parents, siblings and coaches to strive toward growth. Some blossomed in high school, where their own passion for the sport pushed them to train harder, run faster … and practice, practice, practice.
Within every team sport, there is the mark of the individual; and within every individual, there is the support of the team. Beyond parents who make sure they made it to every practice or event (and kept their grades up) were the coaches who saw greatness and helped hone it.
Beyond that circle are the community members who support local sports on all levels.
But a shout has to go out to all those other teammates. The ones who weren't the stars. While there was perhaps a bit of natural jealousy, there was often pride in playing alongside such talent and true excitement to see it in action.
Being a part of team sports is a wonderful exercise in humility, camaraderie, joint effort and belonging. We share the highest highs and the lowest lows and walk away with the knowledge we have done it together.
There are life lessons learned in team sports about dealing with failure and accepting decisions we may not enjoy. But there are also lessons about sharing, compassion, working very hard to achieve success and trusting others.
These people who have been chosen later in life to be honored for their skills, drive and successes in venues like the Menominee High School Athletic Hall of Fame are prime examples of individuals who achieved not only sports status, but scored high in life lessons. Their ability to sustain personal drive often spilled over into the drive of their teammates. Many of them took the lessons they learned forward as teachers and coaches themselves.
Their stories are remarkable and were well-covered in the newspaper articles written by my former colleague EagleHerald Sports Editor Matt Lehmann. If you haven't read them yet, take the time to pick up a copy or read his stories online. They are excellent.
The names of the honorees are familiar to me: Chris Hofer, Dave and Marye Mathieu, Mike Miller, John Noppenberg, Joe Pfankuch, Korry Schwanz, Josh Tarbox and Mandi Long Zemba. I worked with some of the best sportswriters in the business during my 34 years at the Marinette Eagle-Star, the Menominee Herald-Leader and the EagleHerald and all they talked sports – all the time.
You might recognize some of their names: Larry Ebsch, Bill Pelnar, Donn Williams, Ken Merrill, Tom Kaeser, Jody Korch, Tim Froberg, Brian Bell, Matt Lehmann and Dan Kitkowski. They talked about all of you in the newsroom – your names and your talents are legend.
But you were also important as individuals. The women and men who started as girls and boys playing sports in their neighborhoods, schoolyards and later in high school … are a wonderful representation of some of Menominee's best citizens.
Sports can be an important tool in building great human beings, and those who excel in sports often help form others into great human beings.
While it is true that things have come a long way for girls and women in sports, in my opinion, it still isn't equal if we have to have laws behind the decisions made between women and men's rights.
As we honor what you have achieved in the past, we all need to look to the future and commit to ensuring that the next generations of boys and girls all have the abilities to participate and excel in our area's wide selection of sports. Our work is not done.
Let that be our next goal.
Congratulations to the Class of 2023.
-30-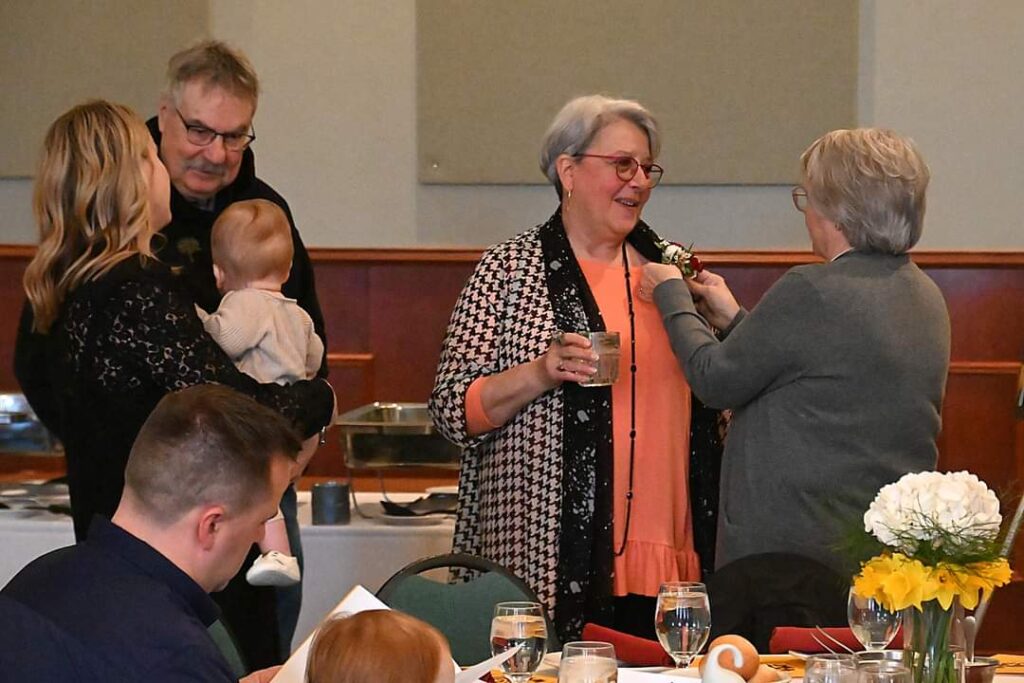 My dear friend, Jill Schwanz, helped pin my corsage before the start of the evening. She and her husband, Bill, were there with a plethora of family members to celebrate the induction of their daughter, Korry Schwanz, in the Hall of Fame. Jeff is enjoying one of his favorite moments of the evening – talking with one of Jill's grandsons and his mommy. I brought a purple-to-the-core Marine to the Maroon event and he behaved himself! Thank you, Jeff. Jill made sure I had a cold drink awaiting me after I gave the speech, since I did not drink anything but water prior. BTW, Jill, the corsage fell off when I went to the bar later for a second Blue Moon, but I found it!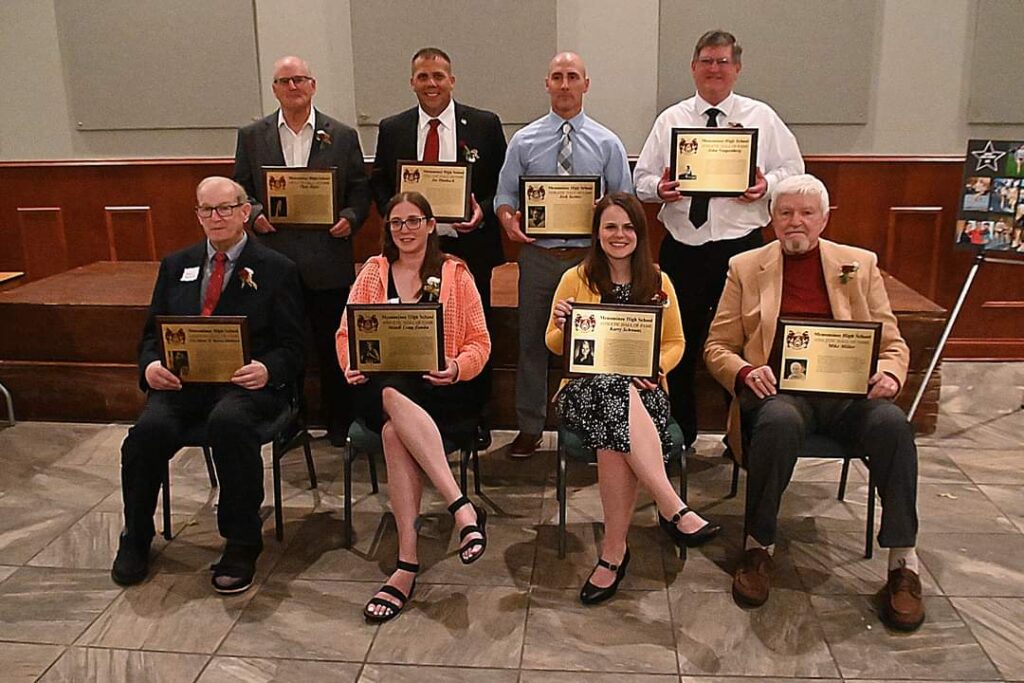 Inductees into the 2023 Menominee High School Athletic Hall of Fame are, front row from left, Dave Mathieu (who was honored along with his late wife Marye), Mandi Long Zemba, Korry Schwanz, Mike Miller; back row, from left, Chris Hofer, Joe Pfankuch, Josh Tarbox and Peter Noppenberg, who accepted for his brother, John Noppenberg.