So this is COVID.
Feeling fine all day, then suddenly having a sore throat and a nagging little cough until bed.
Then dreaming about numbers (I always count things in my dreams when I am sick) and waking up thinking I have plants growing inside my CPAP mask.
That was my introduction to COVID, which was confirmed by one of the free at‐home tests I had sent to us months ago.
The first thing I thought of was all the people I might have infected the day before. Of course, I had to have hugged or shook hands with 40-some friends and family members at a funeral on Tuesday.
The second thought was… "Are you kidding me?!" I couldn't even figure out where I came in contact with the virus… I never left home Friday, Saturday and Sunday and went to the clinic Monday with my Mom and stopped at the grocery store afterward.
I have been so careful for so long, that I felt disappointed in myself. I let the virus into my life, and now all kinds of people would have to deal with it.
I am not a happy person.
I am grateful that I have been vaccinated twice and boosted twice … this should limit my personal medical ordeal.
But, I have become used to not being sick and to not having two colds a year – the benefit of masking and retirement. And this feels like the crappiest of crappy colds.
Low-grade fever that makes my head feel like it is in a vice and body aches came the second day. Even my teeth hurt. Today, I have a stuffy nose, cough and repeated sneezes. I've never had normal, delicate sneezes – they are more like a barking cough. It scares the hell out of Barney, but Freddy just looks at me in a puzzled way with those big, brown eyes.
And did I mention that I sound like a man? I have been told that by at least two people I called to cancel appointments. My hoarse voice was the first symptom.
I called my doctor and got a prescription for Paxlovid, the anti-viral medication. I started taking it right away and I am already feeling a little better.
But Paxlovid and COVID can affect your ability to taste, and that is just adding insult to injury! I have limited taste since my brain surgery more than a year ago. Now, Paxlovid has added an altered taste to everything, making even cough drops taste yucky.
Cruel.
So, I am convinced I am going to live, even though this reminds me of how humbling even a simple cold can make us. And I will sleep upstairs with my collection of cold and flu medicine and water bottles and used/new tissues.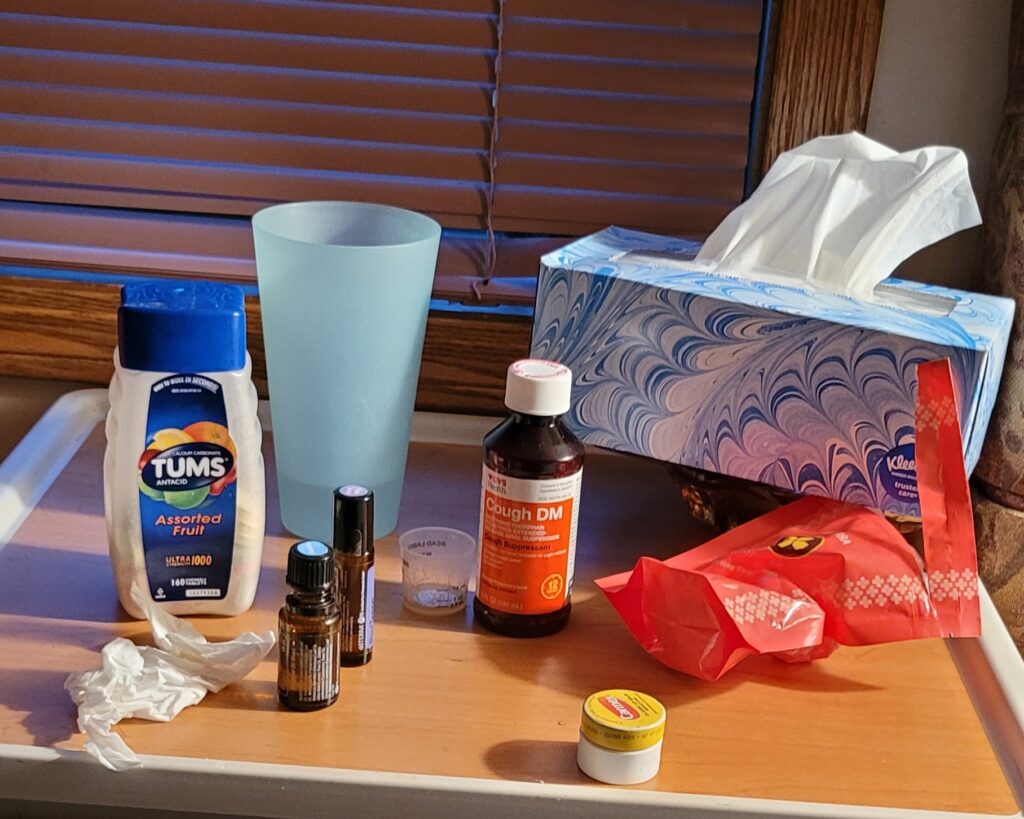 Did I mention that Barney likes to eat tissues? Don't even get me started on how gross that is.
My hope is that no one I touched on Tuesday gets sick and that my husband doesn't get this crap.
If I'm a pathetic sick person, rest assured he would be so much worse.
-30-