It's such a little thing. Round and red – tart, but sweet. Tiny seeds that get stuck in your teeth.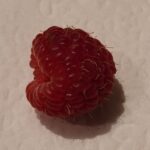 Raspberries.
The last 10 days have placed me in raspberry heaven and hell at the same time. The unrelenting heat, without much rain at all, has given me a bountiful crop of rich, red raspberries this year. I have been picking daily and I am adamant that they will not go to waste this year, or end up in freezer purgatory.
The heaven is the wonderful taste of the freshly picked berries. Just like a child, I find myself popping the biggest, ripest ones in my mouth as I fill my container. Heaven is the smell of raspberry jelly simmering on the stove and the first taste of the jelly.
But hell is the hours of picking, cleaning, smashing and straining, then cooking and filling and boiling and sealing and boiling and cooling and then labeling. And hell is knowing that I have picked enough berries to repeat that process, or something similar, in the next day or two.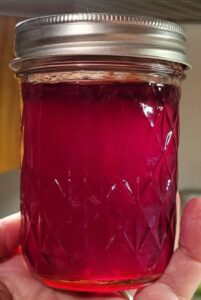 I am determined to pick and preserve every raspberry I can this year, since this is my penance for all the years I never finished the chore of turning picked raspberries into something edible.
My marriage was at stake here, since I have promised my husband I would make jelly out of all those raspberries in our freezer. Sad, little reddish blobs that – in some cases – don't really look like fruit anymore. I had to pick the berries and use them all this year or I was in real trouble.
This whole retirement gig has brought me full circle to the life I had before I worked around the clock as a journalist. The life I had for 10 years – between age 20 and 30 – where I was a stay-at-home mom with a home-based art and writing side hustle.
Those were the days that I sewed some of my own clothes and great outfits for my kids; when I painted and sketched, when I wrote and read books, when I canned and cooked and baked and played my guitar and sang and gardened.
I was a volunteer and took care of my very sick grandmother in the last days of her life and played softball and bowled. I belonged to organizations and took on projects.
Most importantly, I was there every day, from sunrise to sunset, for my two kids when they were little and needed me the most.
And then I applied for a job at the local newspaper and was hired.
Everything changed.
I loved my job, and I found a way to involve my children in some of the events I covered and places I visited. I still did all those things I did when I was not working, but I did less – and when I did both – I slept less.
Looking back on the last 35 years, I don't know how I did it. How I managed to work full-time at a job that was always on call and rarely normal hours, and kept my kids and home in check … I am exhausted thinking about it.
There was a lot that didn't get done. My housework has always been on an as-needed basis, and I'm really good at last-minute cleaning, cooking, decorating and wrapping.
Ten years ago, I added another job to my life when we opened the greenhouse. Suddenly, I was a mom again – only I was raising and caring for baby plants. Needless to say, those babies have really benefited from my "retirement" and the greenhouse looks better every day.
But adding another responsibility to my life cut out some of those other things I loved to do, but didn't have time for. Like weeding my gardens, painting and drawing, cleaning and rearranging – and making raspberry jelly.
This week has given me back a little of the Penny I used to be before I was the reporter/editor/photographer/digital diva …. Homemaker Penny. Raspberry Picker Penny.
I am happy with that. I will be a little happier when I decide what to make out of the huge bowl of raspberries I picked over the past three days – but it's an easy problem to solve.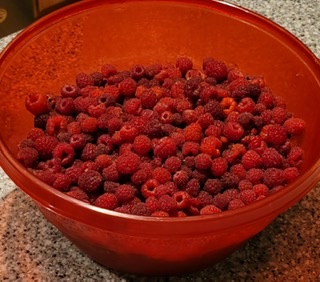 And I am going to give Jeff the go-ahead to get rid of all those berries in our freezer.
-30-